Summer, sun, refreshment for the soul
Summer season in Kohlern
The freshness of the mountains is one of the main things on our minds during the heat of summer in South Tyrol. The shade provided by Mother Nature is the best way to cool off: under the ancient lime trees in the garden of the Gasthof Kohlern, or walking in the forest, or taking a Kneipp cure in a mountain stream – all under the rays of the sun, which are however not so fierce up here at between 1,100 and 1,200 metres. Kohlern has been the favourite holiday escape for the people of Bozen since the fin de siècle era.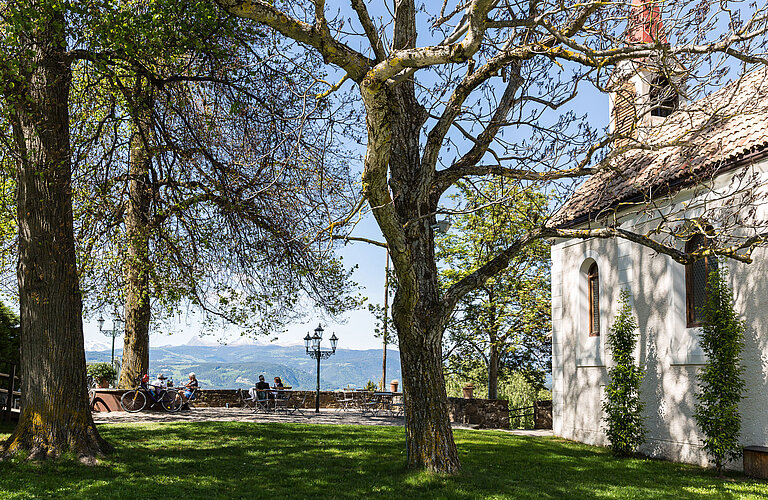 Panoramic views are guaranteed, whether from the rocky outcrop of the Köhlwände, from the Titschenwarte with its magnificent vistas of the Dolomites, or from Italy's highest wooden lookout tower. You can walk around the Titschen (the highest peak of the Kohlern mountain at 1,615 metres) on marked trails, or climb to the summit. You can follow the European E5 long-distance trail over the Rotwand (1,540 metres) and the "Toten Moos" (a protected area of high moorland at 1,450 metres) to Deutschnofen. Super-fit mountain bikers can savour single trails, hairpin bends and steps. There are also greens for golfers: South Tyrol has a total of nine courses – and guests receive a 20% discount on green fees at the Petersberg golf course.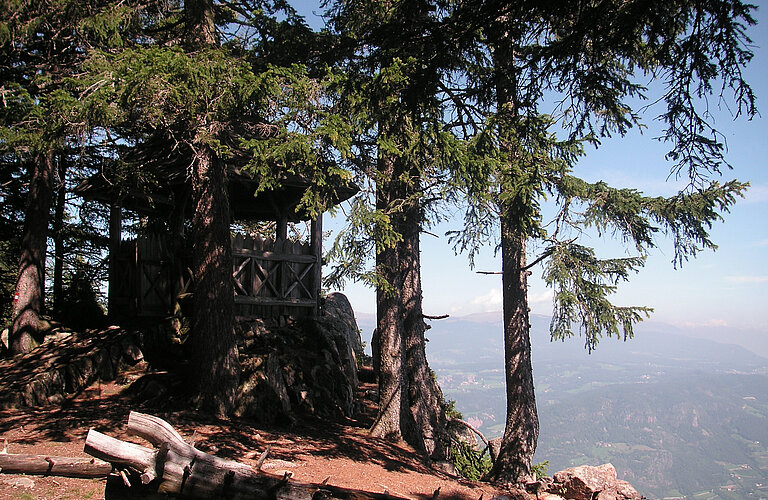 As a change from the mountain, take the cable car down to the valley: to Meran and its surroundings, to Trauttmansdorff Castle; or to South Tyrol's south, to Lake Kaltern; or into the Eisack Valley with its many paths and chestnut trees. Further afield are the Vinschgau and Pustertal valleys, or even Lake Garda. Summer in Kohlern is for everyone – for the young and the young at heart; for active and not-so-active spirits alike; for peak baggers and more leisurely walkers; for road bikers – and especially mountain bikers. And for culture enthusiasts!