Past, present, future
History and architecture of the Gasthof Kohlern
The first chapter of our long history was written back in 1870, when the Gasthof Kohlern was built in the Alpine Art Nouveau style as a stylish residence on the Kohlern mountain, amid natural surroundings with panoramic views. Without question the perfect retreat: once for Bozen's high society, nowadays for true romantics and nature lovers, for those who enjoy exercise and those who seek relaxation, for bon vivants and adventurers.
Paula and Anton Schrott took over the Gasthof Kohlern from the Kohlern cable car company in 1966. Its pitch-black wooden floors and broken windows were evidence of the building's decay: the couple renovated and reopened it as a hotel and restaurant.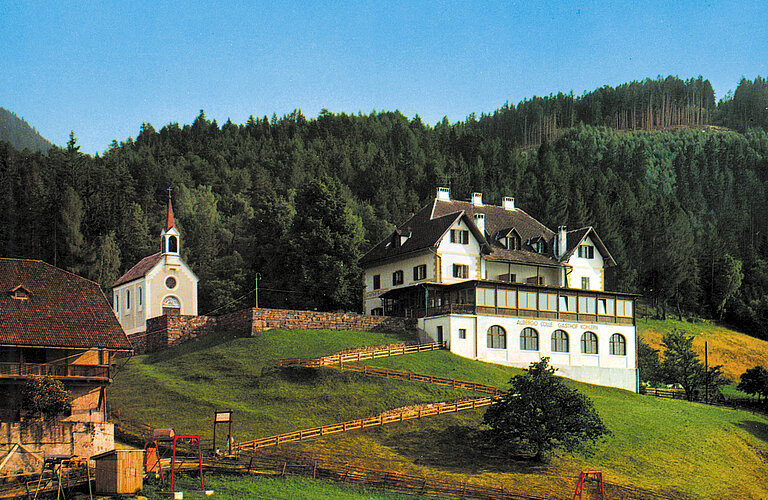 In 1993 the business passed to the second generation, and Josef Schrott and his wife Cristina have been running it since. Their vision is of a refuge for all those who wish to treat themselves. It is not only the distinguished historic building that merits its four-star status, but even more so the cultivated management style: the rooms are attractive and inviting, the restaurant serves exquisite fare, while the Spa area offers palpable peace and quiet. No frills, authentic and honest: this establishment understands and lives the concept of a relaxing break, in a genuine, informal, sophisticated way. The Gasthof Kohlern is for all who savour time.
"Josef Schrott treats guests to a blend of modern amenities, the comforts of days gone by and the charms of the local mountain, such as its 36-metre-high observation tower."
Die Südtiroler Frau publication
Renovated true to the original by the architects Zeno Bampi and Christina von Berg, the house today radiates a comfortable solidity. The furnishings are noble and rustic in style, with antique furniture and marble bathrooms. Wood is constantly encountered both inside and out, as is the feeling of being present in the here and now. Breathe in deeply and inhale the scents of nature, of culture and... of stories. How could it be any different?